69 homeschooled families were surveyed on both Quia and the Well-Trained Mind surrounding their frog metamorphosis projects in the past.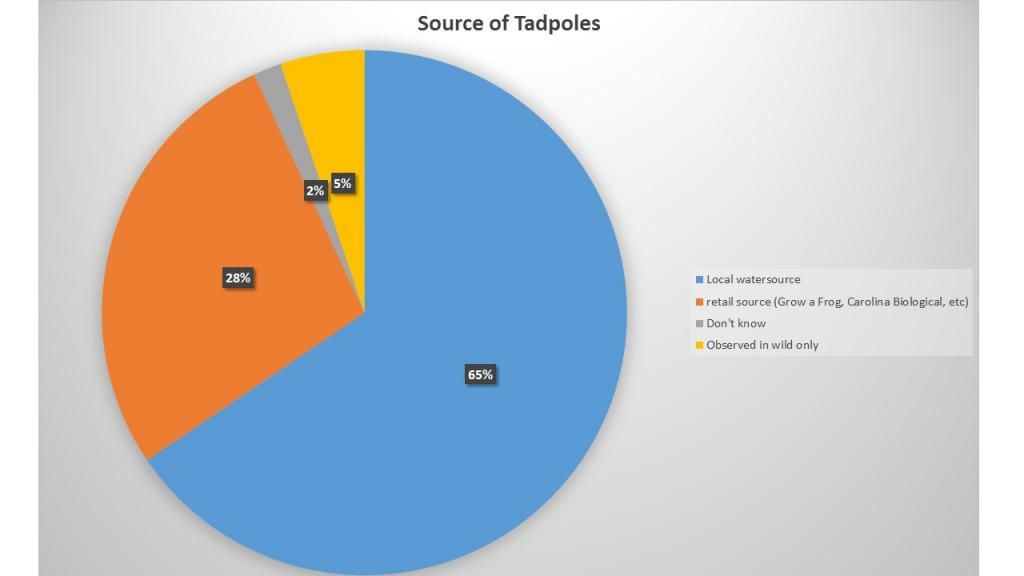 65% of tadpoles were taken from the wild, an action that there are at least some restrictions on in all US states.
28% of tadpoles came from a retail source, such as Grow-A-Frog or Insect Lore.
2% of tadpoles had unknown origins.
5% of tadpoles were observed in the wild.
56% of families had some tadpoles die.
25% of families had all tadpoles die.
19% of families had all tadpoles survive.
81% of families experienced death, which may teach them unethical attitudes towards life such as the idea that humankind can do whatever they wish with animals, that when you do not want an animal it is disposed of, that when you experience the death of an animal you just replenish your numbers, and taking care of an animal, another living creature, is a process of trial and error. This kind of learning is one of the reasons that our planet and the environment are no longer in such good condition as they were, and that there are high amounts of violence and crime. (Montgomery, 1978.)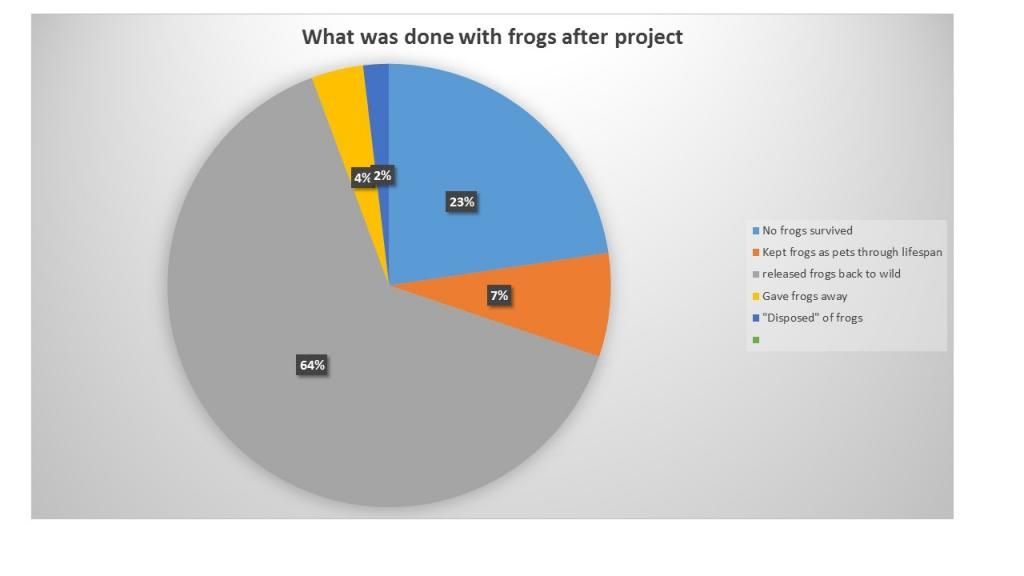 64% of families released frogs back into the wild, the origin of chytrid fungus, a deadly condition that has contributed to amphibian die-offs around the world. The fungus was introduced by African Clawed Frogs, a species often used in frog metamorphosis projects, becoming invasive in the wild, often by releasing pets or science animals. (Weldon, et al, 2004.)
23% of families could not answer said question, as none of their frogs survived.
7% of families kept the frogs as pets throughout their lifespan.
4% of families gave the frogs away.
2% of families disposed of the frogs. The reason for this was because one family in Australia had accidentally collected cane toad tadpoles which under Australian law were required to be killed.(Frog Decline Reversal Project, 2001-2013.)
Frog Decline Reversal Project. "Raising Tadpoles in Containers and Ponds" http://www.frogsafe.au/ponds/raising_tadpoles.shtml , 2001-2013
Montgomery, Charlotte. "Teaching with Animals:Goals and Guidelines" Day Care and Early Education. 1978.
Hyatt, Alex. Muller, Reinhold. Speare, Rick. "Origin of the Amphibian Chytrid Fungus" Centers for Disease Control and Prevention. December 2004.
Conrad, Paulette, Nanjappa, Priya. "State of the Union:Legal Authority Over the Use of Native Amphibians and Reptiles in the United States." Association of Fish & Wildlife Agencies. 2011.